---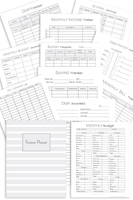 Sale
Black and White Financial Planner {28+ Page Instant Download}
Sale price $16.20 Regular price $27.00
Your Black and White Financial Planner
Do you want to look for a Monthly Budget Planner Template? This template is easy to use, and will help you stay organized throughout the month and stay on track with your financial budget! It includes tracking for all of your budget needs and lays it out in an easy-to-read format. Organize your personal finances and budget in style using this Monthly Budget Planner Template.
Here are the benefits of using this black and white planner:

The monthly income tracker/monthly budget/budget template is designed to manage and track your personal or business income. This tracker sheet is designed with a simple, sleek, and beautiful look in pretty with eye-catching colors. 
This printable monthly income and expenses tracker is the best way to have everything controlled! Perfect for keeping track of your expenses and money income! To be able to focus on managing your money well and achieve your goals!
This monthly bill tracker is a great resource to use to ensure that you make your payments on time and to give you the peace of mind your bills are covered. Since we started using this tracker we have been less stressed about our finances knowing that everything is taken care of.

This savings tracker planner is a great and simple way to track your progress towards any type of savings goal! We have used these to save for our emergency fund and a house down payment and we want to share it with you!
Start your debt-free journey today! Use this debt planner to help motivate you in achieving your financial goals towards owning your home. Now it's your chance to take complete control over your financial future by creating a monthly budget you will actually stick to.
This item is an instant download that allows you to print them out instantly and can be inserted into a binder/planner. The planner can be printed right from your home or at your local print shop with the use of any paper choice of your own...it's all up to you!
This is a great place to start to get your finances organized and see a birds-eye view of the Income, Budget, Expenses, Debt, and Annual Summary you are working with! Improve your productivity and get organized with Perfectly Organised printables! 
 What Is Included in your file?
Monthly Income Tracker
Monthly Budget
Simple Budget Template
Monthly Budget Summary
Monthly Variable Expenses
Monthly Fixed Expenses
Monthly Bill Tracker
Debt Tracker
Debt Summary
52 Weeks Saving
Saving Tracker
Thermometer Description
Thermometer Debt Payoff Goal
Thermometer Saving Goal
Annual Summary Part 1
Annual Summary Part 2
Dot Notes
Grid Notes
Subscription Tracker
Pet Expenses
Debt Snowball
Password Keeper
To-Do List
Housing Expenses
Housing Expenses
Cell Phone Login
Credit Card Login
Loan Login
Front Cover
Back Cover
 Instant download, no print will be mailed 
How To Download
All of our products in-store are digital items and will be instantly downloaded in ZIP file PDF formats, 8.5''X 11" (with Bleed -> 8.75'X11.25''inches).
 Please note that most of our download links will not be able to download on mobile devices, tablets, and iPad.
 Please keep in mind that colors on a monitor may vary slightly from how they appear in person or how they display on viewing device to another due to color calibration of your device or monitor.
For the most visually stunning final results, we recommend printing the pages using high-quality paper.
Here's a full tutorial on how to download our products.
Step 1
When you want to download our products, simply click on the product you want to buy. After clicking the product, it will redirect you to a page that contains additional information about the nature of the product you want to buy.
 There will be a button "ADD TO CART." Click the "ADD TO CART" button.
Step 2
After you click the ADD TO CART button, another window will pop-up to summarize the details about your product; you can keep shopping for more products by clicking the CHECK OUT button.
Step 3
After checking out, provide all your payment information and discount codes if you have one. Please note that our shopping system only allows you to use one discount code per order.
Step 4
After providing all of your essential details and discount codes for your check out, you will receive two emails. One email will be a confirmation of your order.
Step 5
A few minutes after receiving your first email, you will receive a second email. This email will contain a link. You can click on this link, and this will take you to another page where you can download your order.
 Always make sure that you are downloading from your laptop or your pc. Mobile devices do not support our download links due to protection.
Step 6
After clicking on the DOWNLOAD NOW button, your files will automatically be sent to your downloads folder. After the download, you can access your product. The PDF will be within a ZIP file.
Here's how you can unzip the zip file.
On A Laptop Or PC
After saving the ZIP file on your laptop or pc, right-click, and select "Extract All." This will extract the contents of the ZIP file on your computer that you can open. Then you can add your file to your iCloud or Dropbox if you want to get your files on your mobile devices.
 Sometimes, the applications on your browser might impede the downloading process; if that happens, please try a different browser.
On A Mobile Device
If you wish to download your file directly to your mobile device, you will require a free app to unzip it. In some mobile devices, another way to access the file is to long hold the zipped file icon and then select "Extract."
To Access The PDF
All files will be sent using a PDF format. You can access it through Adobe Reader, which is most common. There are many other PDF viewers available as well. If your laptop or PC does not have a sort of PDF viewer on it, then download one.
Can't Find The File
If you do not find the file after the download, check your downloads folder or search for the computer's filename.
License Rights
This purchase is strictly for non-commercial, personal use only. You may print as many times as you want, but may not resell, reproduce, distribute by electronic means, or profit in any way from the design.